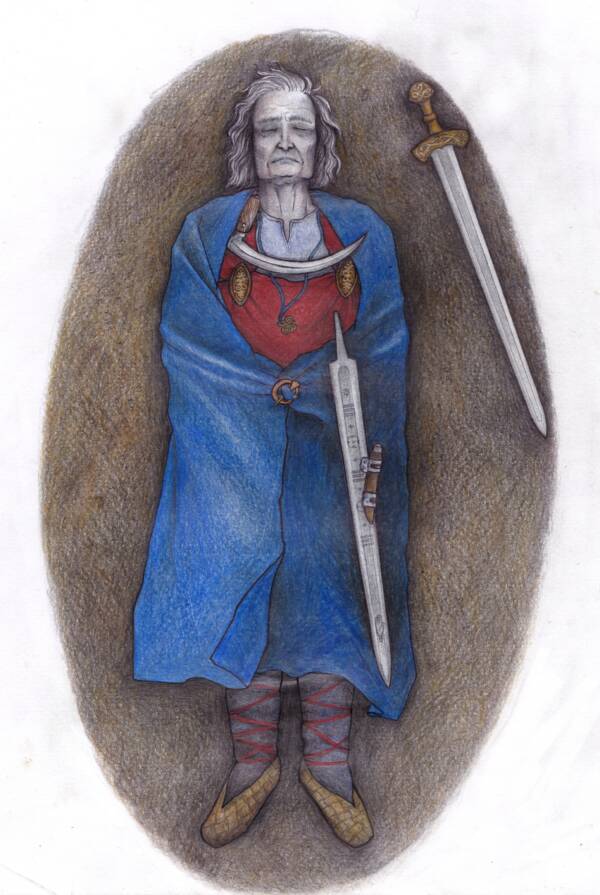 A depiction of the Viking warrior as they would have been laid in the grave.
The Viking remains, which date to between 1050 and 1300, were buried with both male and female objects, suggesting a highly-regarded member of society with a non-binary gender identity.
In 1968, ditch-diggers in Suontaka, Finland, came across a puzzling mystery. They found a 1,000-year-old skeleton buried in women's clothing — next to two swords. Archeologists speculated that they'd found a double burial, or perhaps evidence of a woman warrior.
In fact, DNA testing has shown that the skeleton was likely intersex, according to a study recently published in the European Journal of Archeology.
"According to current data, it is likely that the individual found in Suontaka had the chromosomes XXY, although the DNA results are based on a very small set of data," explained Elina Salmela, a postdoctoral researcher from the University of Helsinki.
For decades, the grave has confounded archeologists. The warrior, who likely died around 1050 to 1300, wore women's clothing and had been buried with furs and jewelry. But its grave also contained two swords, including one laid at the skeleton's hip, usually associated with male Viking burials.
Read the rest of this article...