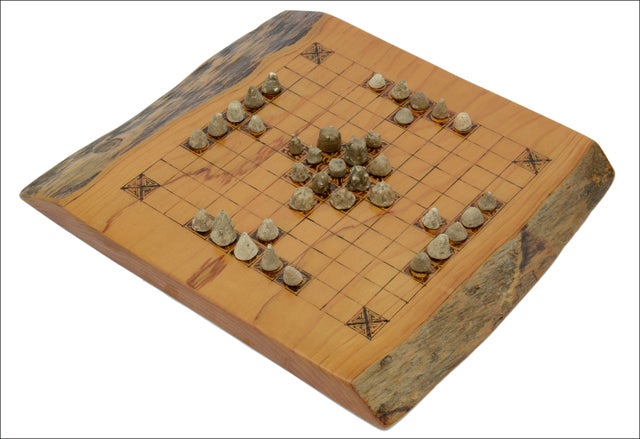 The 37 original pieces on a board commissioned by auctioneers Dix Noonan Webb
A metal detectorist has unearthed a viking board game in Lincolnshire dating back to 872 AD.
Mick Bott, a retired miner, made the rare discovery of a complete set of 37 pieces used in Hnefatafl — a chess-like game popular with soldiers for its strategic nature — at a site next to the River Trent.
The 73-year-old had spent 20 years searching for items at the location where, thanks to his efforts, historians now know Vikings set up camp throughout the winter of 872 AD.
From his first detecting session at the Torksey site in 1982, Mr Bott and two fellow detectorists unearthed hundreds of coins, strap ends, brooches, and mounts, all of which were from the ninth century.
"It was later on after showing many of our finds to the Fitzwilliam Museum in Cambridge that the experts realised that this was the Viking winter camp of 872/3 when several thousand men of the Viking army overwintered," Mr Bott said.