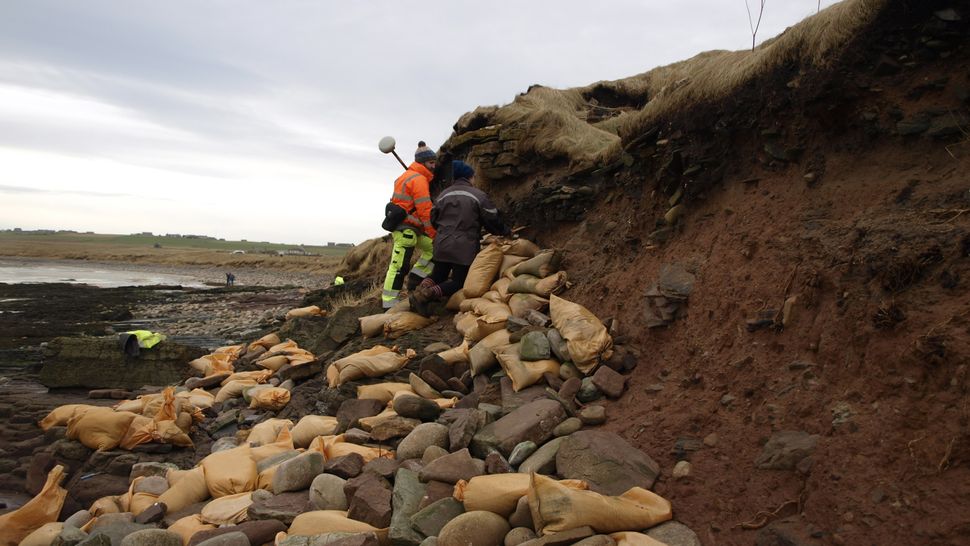 Archaeologists and volunteers are working to preserve human bones exposed by recent storms in an ancient cemetery above a beach on the Orkney Islands.
(Image: © ORCA Archaeology)
Powerful storms on the Orkney Islands in the far north of Scotland recently exposed ancient human bones in a Pictish and Viking cemetery dating to almost 1,500 years ago. Volunteers are piling sandbags and clay to protect the remains and limit the damage to the ancient Newark Bay cemetery on Orkney's largest island.
The cemetery traces its origins to the middle of the sixth century, when the Orkney Islands were inhabited by native Pictish people, akin to the Picts who inhabited most of what is now Scotland.
It was used for almost a thousand years, and many of the burials from the ninth through the 15th centuries were Norsemen or Vikings who had taken over the Orkney Islands from the Picts. But waves raised by storms are eating away at the low cliff where the ancient cemetery lies, said Peter Higgins of the Orkney Research Center for Archaeology (ORCA), part of the Archaeology Institute of the University of the Highlands and Islands.
Read the rest of this article...