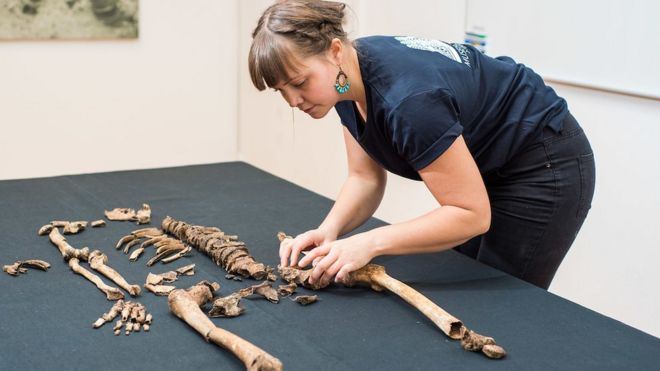 Team member Clara Alfsdotter arranges the remains of one victim
Swedish archaeologists have found evidence of a 5th century massacre on the south-eastern island of Oland.
In a paper published in the journal Antiquity, the team writes about the 1,500 year old attack at Sandby borg.
Dozens of corpses have been found in the walled fort, their bodies left to rot where they fell.
All of the victims were killed with "brutal force", team leader Helena Victor said. Some victims were found inside houses, others in the streets.
The archaeologists discovered decapitated bodies, blunt force trauma wounds to victims' heads, and even one person who seemed to have fallen into a fireplace in his final moments.
Even the corpse of a newborn was found among the dead, suggesting nobody was spared, the authors say.
Read the rest of this article...